In the Diocese of Lichfield, our heart is to become more dementia-friendly churches and schools at the heart of dementia-friendly communities.
The Diocese has been working to take action on dementia through our dementia-friendly churches network since 2015 and, from the 2022/3 academic year, this has extended to dementia-friendly schools.  The Diocesan focus is on improving inclusion and quality of life for people with dementia, staying in step as patterns change, recognising the heart and soul connections that are so important as dementia advances.   As such, it is able to authorise the use of our "Becoming Dementia Friendly School" logo when church schools or other schools with a strong church connection agree to a three-point Action Plan for the academic year.  This supports schools that want dementia awareness to become part of school life, so that we name and face dementia together.  It supports schools which want to welcome, understand, respect and support people affected by dementia – both someone with a diagnosis and their family/carers. It supports schools which want:
ALL IN OUR SCHOOL COMMUNITY (pupils, staff and families) to be aware of dementia and to understand how to stay in step as patterns change through advancing dementia.
ALL IN OUR SCHOOL COMMUNITY (pupils, staff and families) affected by dementia to be welcomed, understood, respected and supported.
Process
Embarking:
Introductory session for staff
First steps on raising awareness with children
Embedding:
Agree the three Dementia-Friendly Schools Certificate action points
Agree to an annual review and renewal with further actions planned
Extending:
Develop wider community connections
Support is available throughout the process. If you have any queries please contact
Either
Alex Wolvers (Schools Mission Enabler)
Or
Sarah Thorpe (Dementia Friendly Church Enabler)
Supporting resources
Start the journey with these explanatory notes:

START HERE DEMENTIA-FRIENDLY SCHOOLS EXPLANATORY NOTES
Dementia friendly school leaflet
Dementia-Friendly Schools Leaflet for the Whole School Community

Becoming dementia-friendly school certificate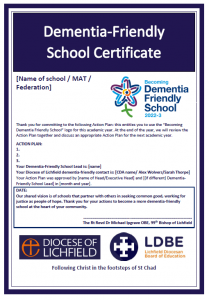 2023 2024 Dementia-Friendly School Certificate
Ideas and materials to use in your school
Worship and reflection space material: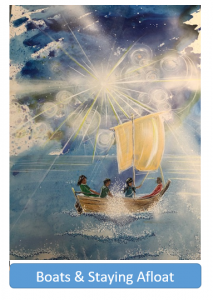 Boats and Staying Afloat – Dementia-Friendly Worship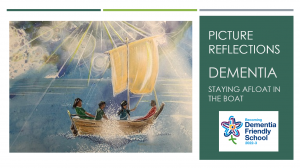 Picture-Reflection-Worship-for-Pupils-on-Dementia-Boats-Staying-Afloat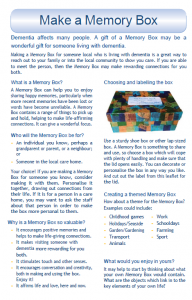 Memory Box Instructions for Schools
'Forget-Me-Not' Crafts and Ideas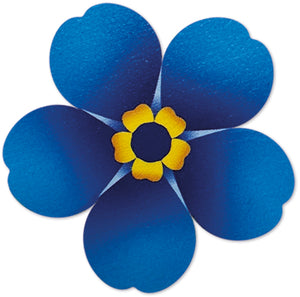 The forget-me-not flower, is a small blue flower that represents remembrance and is long-associated with dementia.
People with dementia may experience memory loss, among other symptoms. This makes the forget-me-not the perfect flower to represent the cause.
The blue flower is a symbol for anyone who wants to raise awareness of dementia and support people affected by the condition.
The following ideas could be used as crafts to make and sell as a fund raising activities or could be also used as wonderful cross-generational crafts.

Forget-me-not -knitting-pattern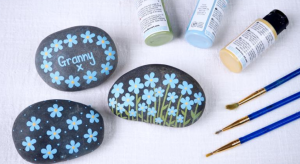 Dementia Friendly Gardens and Reflections
Forget-me-not reflection garden
School gardens can enrich academic learning, nurture relationships, and create a positive neighbourhood environment that enhances students' lives inside and outside of school. Why not make your school garden a forget-me-not community garden? You do not need a large plot of land to make something meaningful.
There are now many studies that demonstrate how being outside can improve wellbeing for all people including those living with dementia. Access to fresh air, sunshine and natural light are important for wellbeing.
Sitting outside looking at trees, flowers and any wildlife such as birds or butterflies can be restful and calming.
Planning the garden.
Use plants of contrasting heights, colours, smells and textures to provide interest throughout the seasons, including forget-me-nots.
Make sure that people can see, touch and smell all the plants.
Think about introducing gentle sounds to the garden such as windchimes or grasses.
Encourage birds and butterflies into the garden with feeders and planting.
Opening the garden.
It would be great if you could have an open day for your garden where you invite the local community to enjoy it, including those living with dementia.
Use your garden to inform your local community about dementia. This can be done through setting up reflection spaces and including information signs in your design.
Further resources
This year, people from across the Diocese of Lichfield have contributed prayers from the heart, with our "Share a Prayer through Dementia" initiative.
Bishop Michael invited prayers, writing: "Prayer is the first response of the human being to the God who has created and loves us,  and it can be the last response too. Words may be forgotten, memories fail, thoughts be confused, but the Spirit always comes to us in our weakness to help us to pray. Dementia is no bar to our praying; rather, it is a place from which and through which we can pray from the heart."
From this, the following three prayers are our Diocese of Lichfield prayers for Dementia Action Week, 15-21 May 2023.
Prayer written by a child, contributed by St Paul's School, a Church of England school in Longton, Stoke on Trent
Please help those with dementia,
watch over them and keep them safe.
Help the people who care for them,
giving them peace and patience.
Amen.
Further prayers from the Share a Prayer through Dementia initiative are available to be used in Dementia Action Week or other times.
The Dementia-Friendly Schools Staff Introduction PowerPoint, with the accompanying Handout and "Action on Dementia" cards, is only available to participating schools.  If your school decides to join the Dementia-Friendly Schools Network and sign up to a Dementia-Friendly School Certificate, the Support Team will provide you with the password to access these documents here.